Following an uplifting shabbos the Motzei Shabbos session was a melava malka setting the theme-Agudath Israel Centennial Banquet, which reflected on 100 years since the founding of Agudah in katowice, Poland.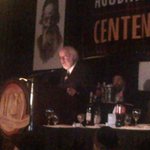 The Evening Chairman was Mr. bentzion Fishoff a long time Agudah veteran activist.
Rav Avrohom Chaim Levin
Rosh Yeshiva Telshe Chicago spoke about the many unknown acts of Kiddush shem shomayim and chesed, the dedication of previous gedolim and leaders of Agudath Yisrael. Who remembers? asked the RY all the achrayus of Mike tress or Moshe sherer, or Rav Itche Mier Levin. Who remembers the dedication of Rav Chaskel Besser the thousands of details that Rav Boruch Borchadt put together, is it forgotten? NO! the Ribono Shel Olam knows, its recorded in his sefer it is inscribed in that great Sefer Zikaron. He concluded by saying that as Agudah turns 100 years old since the founding in Katowitc, youth doesn't appreciate old age, we need hischadshus and dedication we need young blood to get involved in Agudas israel of America.Let us be mechazek and devote ourselves to join the Agudah..ויעשו כולם אגודה אחת
Chacahm Yosef Harari raful
RY Ateret Torah, Brooklyn mentioned how the Agudah in Eretz Yisrael fought with the Govt to save Torah Values in EY. The struggle today is
different
than back than and we must listen and follow the gedolim. The recent Internet Asifa at Citifield gave a Hisoirerus of which we can get Siyata Dishmaya, so too the Siyum hashas which through Agudah brought 90,000 Yidden together and the Shiurei Torah that they spread brings Siyata Dishmaya ashrei Chelkam.
Noted Singer MBD was on hand to provide Zemiros for the Melava Malka.
Rav Doniel Alter from yerushalayim
a son of the Pnei Menachem the previous Gerer Rebbe spoke in Yiddish. He elaborated on the fact That Agudah is here to be Mamlich Kvod shomayim. By Bringing all stripes of klal Yisrael together as the gemara says
נהרא נהרא ופשטיה
.
A

audio visual

presentation was shown titled the heritage of katowice opening With

rabbi chaim Dovid Zweibel

standing at the line of scrimmage in an empty

Metlife

stadium stressing the

importance of Agudah

from its founding to today how it is as

relevant

today as it was than it went through the history of Agudah how it spread from Poland throughout Europe than to NY and now throughout the US in 26 states. It concluded with rabbi Zwiebel (walking toward the end zone ) proclaiming we must rise up and meet the challenge.
Harav Malkiel Kotler

rosh

Yeshiva of

Bais Medrash Govoha

in

Lakewood, Delivered his remarks in English, he

referred

to his Grandfather

Rav Aaron Kotler

who when he came to America he made sure

there was Torah

learned and

Talmidei Chachomim

who would have a

hashkafa al

pi

torah

. We entrust the

gedolim

who lead us no matter if we understand or not. We are one heart even though we are many faces.
Noted Attorney
Nat Lewin or Nosson Levine
whose grandfather was the Reischer rav, Rav Aharon Levine, who was instrumental at the founding of agudah and spoke at the early Knessiah gedolah. Mr. Lewin captivated the audience by opening his remarks in Yiddish as he is not speaking at the supreme court, saying he
usually
only gets 30 minutes to argue a case in the supreme court when a red warning light goes off although he was only allotted 20 minutes he joked about no red lights here. He mentioned how he was a law clerk to Justice John Marshal Harlan II on the supreme court who he called a Mentch. When he told the judge that he was an orthodox Jew who observes shabbos, the judge was receptive and said its no problem at all, his co clerk can take over on shabbos. Interestingly Mr. lewin said back then each judge had 2 law Clerks and yet the supreme court decided 150 cases. Today each justice has 4 law clerks and the court only decides 75 cases. He elaborated on a case he argued regarding a chaplain who was.not allowed to wear a yarmulka in the air force. His litigation eventually bore fruits as congress passed a law allowing one to wear a yarmulka. A special camouflage yarmulka was manufactured at the time, in a humorous twist of events judge Brennen on the supreme court wore a yarmulka for a day which Mr. Lewin jokingly remarked "the first supreme court judge to wear a yarmulka is a roman catholic. As expected he mentioned the Rubashkin case and he said we must not forget about Rav sholom Mordechai. שמור וזכור is Roshei teivos שלום מרדכי רובשקין.
Dayan,

Rav

Aaron

Dovid Dunner from

London

, the last speaker of the evening joked about the late hour saying he

didn't intend to say bedtime stories and unlike the others he plans to keep his speach short. he noted they are closer to Shachris of sunday than the inspiration mentiond of chazak chazak by shachris on shabbos. L

ooking at

the 100 years we must know that true

askanus

requires

Emes

.

Rav yaakov Roesnheim

was

emes

. The word Politika said Rav Dunner is not a word you will find in Lashon hakodesh there is no Emes there. If we show the world and we

don't bend our words we keep to

toras emes

people wont start up with the Torah knowing we are true to the

torah

of which we follow.
for Agudah Convention Tapes and Cd's or mp3 of 90th 2012 convention email: Zalmanumlas@netzero.net or mail this order form: